By Robert Young Pelton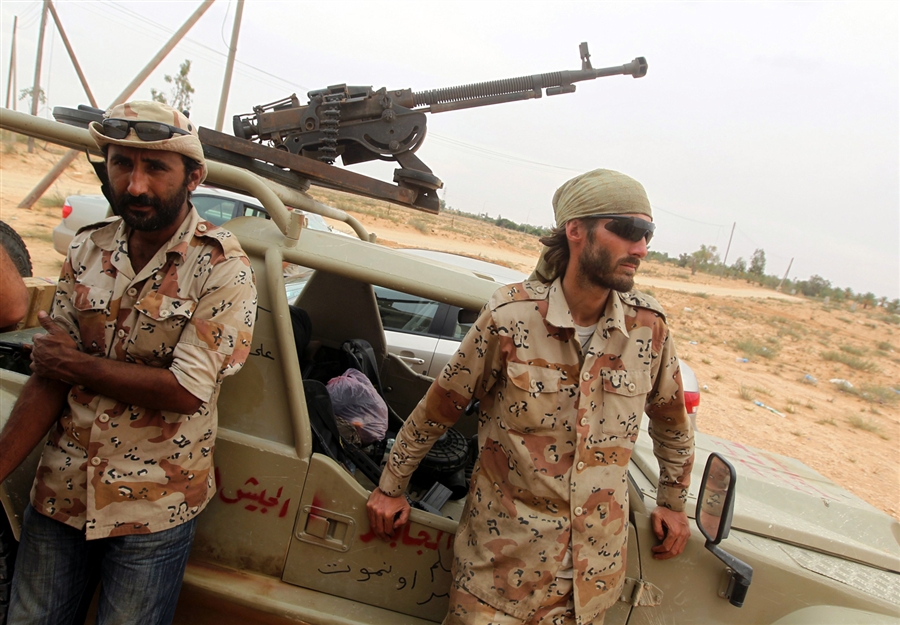 Thirty-three year old Matt VanDyke is pissed. Mostly at journalists who classify him as a freedom fighter posing as a journalist. "I am not there to observe. I am there to fight." The irony does not escape Matt who after fighting in Libya decided to return to Syria as a propagandist-documentary maker, and in July, after inviting donors to "join the Arab Spring," ended up getting kicked off Kickstarter. But not before 60 donors pledged $15,135 of the modest $19,500 budget to fund his "propaganda" documentary. Kickstarter does not support high-risk activities or charities, and the donors were never charged for their contributions.
He went anyways and is now working on a 15-minute film that focuses on young Syrians trying to change their country. He has been called "reckless and irresponsible" by the executive director of the Committee To Protect Journalists, described as "mentally unstable" by a human rights group employee, and on occasion pummeled by the working press.
Journalists are pissed at VanDyke. Mostly for the cavalier and vague way they insist he shifts between journalist and fighter. Credentialed media say that his actions endanger the safety of journalists in rapidly changing and confusing wars like Syria, Mali, Yemen and others.
More irritating to the media is a Heminwayesque self-promotional approach to documenting and participating in conflict. Despite their disapproval of VanDyke's methods, he has no problem finding a journalist or outlet willing to interview him. In the modern world of love-hate relationships between journalists and their subjects, he may be the most valid, embarrassing and intelligent litmus test of moral purpose in modern conflict coverage.
HISTORY
There has been a historic thread of men who have both documented and participated in combat. Ernest Hemingway was a participant and reporter during the Spanish Civil War, John Reed was a chronicler and then a participant in the Russian Revolution, or Stephen Crane an author who was commended for his service as a courier under fire during the Spanish American War. These men characterize the romantic mythology of rebel/artist that has vanished from modern Western media.
Today's besieged and politically correct media business is much less romantic. Embedded, insured, censored and literally under attack media workers find less room to influence in the face of social media, less protected in wars of terror and less relevant as their employers cut budgets or steer toward entertainment.
CPJ has documented the deaths of 972 journalists since1992, 70 in 2012 alone. CNN has dumped its investigative division and icons like the New York Times are laying people off. On-the-ground journalists are viewed as propagandists and a source of hostage swaps or revenue when kidnapped.
Despite the lack of any governing morality toward journalists, modern journalism maintains the third rail of excluding fighters from mythical protections supposedly afforded to the media. Their moral high ground of not taking sides has been eroded by military-controlled embeds or rebel groups that routinely chaperone, guide, gather and provide content.
Regardless of the hypocrisy and shifting barriers, the general consensus of the working media is that anyone who enjoys the protection of a media worker while engaged in fighting has crossed the line. VanDyke says he's never crossed that line and feels he might be the only journalist/fighter/filmmaker/propagandist that knows where the lines are. In the age of polymaths and multitasking, VanDyke just wants his critics to be accurate.
BACKGROUND
VanDyke wanted to work for the American government. After earning a bachelor's degree in political science from the University of Maryland, Baltimore County, he was lucky enough to go to Georgetown University in Washington for a master's degree. He entered the two-year Security Studies Program at Georgetown University's Walsh School of Foreign Service in 2002.
"I educated for the three letter agencies. 'Why Al Qaeda Targets the US' was my thesis." But despite his dreams of fast tracking into the CIA he failed. He blames it on the lie detector tests required.
"I had problems with the polygraph. I told the truth. I spilled my guts on all sorts of embarrassing stuff. They couldn't get the base line. Inconclusive."
Van Dyke is upfront about a having obsessive-compulsive disorder.
"I have OCD. I can't get sugar on me. I feel guilty about the simplest thing. I don't care if people criticize me but I want them to base it on fact.
"I had a romanticized view of what the CIA does. Now I realize it's like the post office."
After graduation VanDyke painted the bottom of boats and did roofs. He remembered watching Alby Mangels films on TV. He ordered the whole series and then decided to make travel adventure films.
He is candid about the challenges of going from sheltered college grad to warzone adventurer. "I was polite. Raised by my mother and grandmother. I had to learn some life lessons and fast. I decided to get out there. A crash course on manhood."
By 2005 he had the idea that he would travel the world. Matt bought a 650cc bike and went to Spain then to Morocco. "My first day in Africa, I wouldn't leave my room. My $60,000 Georgetown education never told me anything about squat toilets. I went to the bathroom in the shower. I left early in the morning figuring I messed up their plumbing.
"That's how much of a pussy I was."
Local drug dealers tried to convince him to carry hash in his bike. His dreams of adventure didn't last long. VanDyke broke his collarbone on his third day. "I swerved off and crashed and ended up pinned under the bike." But after 6 weeks he returned.
He smuggled cars bound for Europe between Morocco and Mauritania. "I lost two Mercedes with my Moroccan-American partner. He cruised the Sahara meeting people that would eventually lead him to friends in Benghazi, Libya."
In March of 2008 he entered Libya with a business visa. He stayed for six weeks. He spent some time filming local bikers and was arrested by the police and kicked out.
His next stop was Northern Iraq. "I taught English in Irbil. It paid well. In 2009 I did an embed and wrote a front-page article for the Baltimore Examiner. They went out of business after the next issue, and I never got paid."
His brief attempt at paid journalism left a bad taste but he became serious about documenting his own adventures. He bought body armor, paid for his own equipment, bought his own video. "I started with DV, then HDV then HD." VanDyke met an American photographer in Iraq named Daniel Britt and together they decided to ride bikes in war zones and film their travels. "'War Zone Bikers' we called it."
They rode through Kurdistan, Turkey, Iran and then into Afghanistan.
They crossed the border into Afghanistan on September 27, 2010 saying they were from Iceland. Dressed like Afghans, they put their bikes on a bus and drove to Kabul to Jalalabad, then the Panjshir valley and up to Bamiyan. They grew beards and carried shotguns hidden under their clothes. Afghanistan provided plenty of adventure. They were arrested numerous times, had their bikes stolen (but recovered them) and even did a little embed journalism so VanDyke could get footage for his film and his partner could make some money.
In December 2010 VanDyke went home.
He wrote a pitch for his television series that Alby Mangel had inspired. He went to TV meetings. But then the revolution in Libya began. His friends in Libya started to ask him through Gmail chat: "Why isn't anyone helping us?"
On February 26, VanDyke flew to Cairo and entered Libya on March 6 in the evening. The next day he reunited with his 31-year-old friend Nuri, who was in the trucking business. He was surprised to see him in military clothes and a flak vest. Nuri had seized a military base and protected it from looters. The revolution involved everyone. They quickly fixed up a battered Toyota Hilux, mounting DShK's, a 12.7mm anti-aircraft gun, on the back and joined a group of seven Libyan fighters.
"None of us had rank or paperwork. Qaddafi was winning. It was a dark time. We kept going. I was in a uniform." He also kept filming. In VanDyke's mind he was simply doing what every other Libyan was doing, all the while documenting the fight. In his mind, he was there to fight. But that's not how everyone saw it, particularly Joel Simon, executive director of the CPJ. Simon believes that VanDyke told his mother he was going there as a journalist. VanDyke says that's just not true.
VanDyke's group went to Brega to scout the city for a day and find Qaddafi's defensive positions. "We spend the night. The next morning everything was calm.
"As best as I can recollect, Ali was driving. He hits the brakes, and I lunge forward, I look over at Ali and there is a row of cinderblocks and two white pick up trucks with a little a green flag on the antennae…. Then I wake up in prison."
PRISON
VanDyke did not see the Qaddafi soldier's rifle butt that crashed into his head nor did see the impact that his March 2011 disappearance had within the media. He disappeared. His mother, Sharon VanDyke, began to reach out, desperate to find her son. She began doing interviews about her missing son. Politicians, State Department officials, human rights groups, and the media sprang into action.
Although some journalists in Libya had met Matthew and even filmed him yelling takbirs from his war wagon, it was quite clear to most that publicity around his self-documented motorcycle trips, his amateur writings for Georgetown University and the defunct Baltimore Examiner, along with his association with photographer Britt, were the rudimentary bona fides required to classify him as one of the 17 journalists detained by the Qaddafi regime.
The State Department, journalist groups and others continued to search for him assuming he was a wrongfully detained journalist. Hopefully wrongfully detained and not executed like some other unfortunate reporters. On May 23, 2011, Maryland Democrat and ranking member of the House Intelligence Committee, C.A. Dutch Ruppersberger, held a press conference where he pressed the Libyan government for information on VanDyke's whereabouts. The Libyan government insisted it had no information on VanDyke.
In his Libyan prison cell VanDyke was more concerned about just surviving. "I knew I was in deep shit. I got caught with a camera full of video with me saying, 'I will fight I am not leaving until Qaddafi is gone.' I have weapons and ammo. I was wearing a uniform."
He was found unconscious and loaded by Qaddafi's soldiers onto a stretcher. When he awoke, they blindfolded VanDyke and put him in a small cell. They told him they were going to kill him. Rough but expected justice for a captured foreign fighter. For some reason they didn't kill him.
"I was polite to the guards for the first three months. I acted innocent. In case there was some way I could explain away my actions." The Libyans put him on a plane to Tripoli.
For the next five and a half months VanDyke was confined to a 7-foot-by-4-foot cell with scratch marks on the wall. The previous inmate only made it to 30 scratches. He listened to the sounds of prisoners being tortured. Large black insects lived in the toilet. He paced back and forth under the dim light of a tiny skylight. He ground his fingernails down in case his jailors tried to pull them out. He planned to fake a hunger strike, though never carried it out. Nothing happened. He turned 32 in prison. In early August, his mother and those working to find him were given a ray of hope. The Libyan regime finally admitted he was alive and being held as a prisoner.
Not coincidentally, a few days before August 24, 2011 the prison in Abu Salim was bombed twice, a few minutes apart.
"I heard them banging locks of the doors. A guy bursts in with a Koran and starts to yell. Then the guy in prison clothes said, 'Qaddafi finished.' I went with them. We ran to this mosque. The imam handed us money." After five and half months, he was free.
After his release and sudden appearance, VanDyke did a number of interviews, and when members of the media realized he went there as a fighter, there was a backlash. VanDyke became a celebrity and a pariah.
Then VanDyke disappeared to rejoin the fight and joined the National Liberation Army. For the next few weeks he estimates he had about 40 engagements with the enemy. His tools were not the camera but his truck-mounted anti-aircraft gun, along with his AK47, FN and RPG.
As an amateur soldier, VanDyke didn't know where to return rounds most of the time. "We were laying down fire at Sirte University. We went house to house in District Two toward the end of the war taking territory. I don't know if I killed anyone. The range was a few hundred meters."
The war was won. VanDyke came home on November 7th 2011.
"I had nightmares every night for the first month after I got home."
Although his four-year motorcycle odyssey and his time as a freedom fighter have not made him money, he has gained a level of media awareness that he is exploiting.
He is just back from Syria where he documented the struggle of young people to topple the regime of the Assads. Journalists in Aleppo recognized him from Libya and were quick to knock out an article on his new venture. Although VanDyke describes himself as a "filmmaker and an activist," he fully reserves the right to return as a fighter and, if he wants, to document his activities. The mutual love-hate relationship with certain members of the media still exists. He describes with some disdain the pack journalism in Syria and the ease with some journalists can profit from the misery of others while doing nothing.
"If I can get enough people off their asses to do something, then it will have been worth it."