By Robert Young Pelton
(This story originally appeared in Foreign Policy Magazine)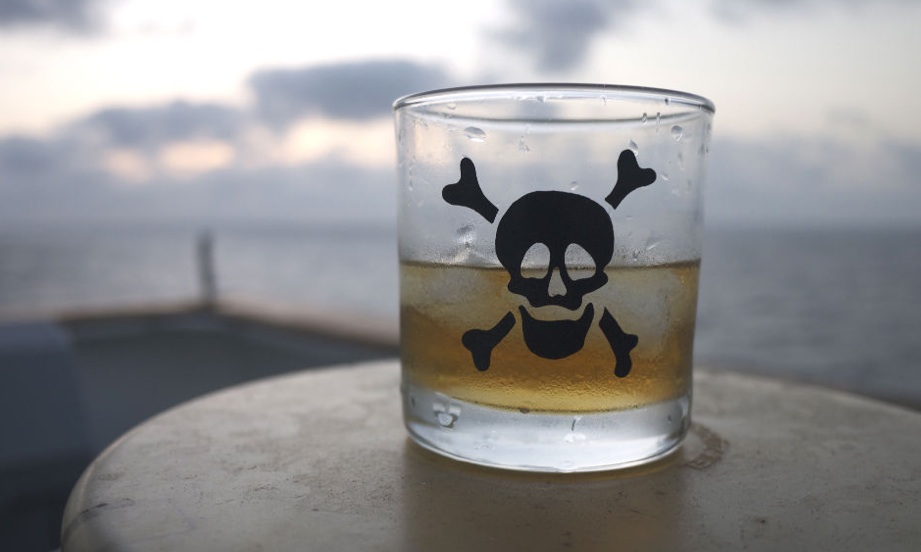 In October of last year, I set sail from Dubai on an aging 160-meter cargo ship laden with supplies for Somalia. For me, as publisher of Somalia Report, it was a chance to experience pirate waters up close. I had met pirates on land and in prison, and had counted their captured ships neatly lined up from the air — but I had never visited them at their 3.2 million-square-mile workplace.
For the multinational crew, it was yet another nerve-wracking voyage for minimal pay. The Indian shipowner was forced to pay an additional $20,000 insurance premium for the short transit, even though he intended to sell the vessel for scrap after the journey to Bosaso, Puntland. It was a hefty fee. But, to put it in perspective, the owner's dirty ship — which reeked of fish sauce and grease — was making $40,000 a day for the duration of its journey — even the time in port. He was making money even as the loading crews muscled cargo into the hold and massive cranes methodically slammed each container into place.
In the Dubai port, the shipowner paced back and forth on the sweltering dock, shouting over his cell phone that the cost of $10,000 to string barbed wire around the ship was too much. In the end, he managed to whittle down his anti-piracy costs to just three security contractors and one rifle. Defensive measures be damned — despite the fact that the 27-year-old RoRo, flagged under St. Kitts and Nevis,was being loaded with millions of dollars of new vehicles and humanitarian supplies. The customer: an ambitious land, sea, and air brigade funded by the United Arab Emirates. The mission: wipe out piracy from inside Somalia.
Pirates have attacked ships an average of 215 times a year since 2008, but their success rate has slipped from 50 percent in 2008 to 20 percent in 2010 to almost zero this year. That doesn't mean they're gone. The number of hostages Somali pirates have held for ransom has ranged from a high of over 1,000 to 200 today. That's still enough to fill a Boeing 757.
Somalia is unique in that the pirates have a clearly defined business model: They violently grab ships, sail them to the Somali coast, and then hold the crew and cargo for months while insurance companies negotiate over the release. The amount of the settlement ransom differs, but it's a lucrative business: Over the past few years, pirates have been paid an average of $4.5 million per ship — in giant bundles of $100 bills.
As we set to sea, I comforted myself with statistics: Although pirate attacks on commercial ships have been a major maritime threat since 2008, the actual risk of being attacked is less than 1 percent. The vast majority of the 25,000 or so ships that transit the Gulf of Aden and Indian Ocean never see a single pirate. Still, I was wary. The rusting ship shuddered and groaned as we steamed toward the glassy Gulf of Aden, struggling to maintain a meager 11 knots — a perfect slow-moving target for pirates. The crew of 12 kept busy, but constantly cocked a sidelong glance toward the tiny skiffs that would cut across our path or zoom alongside to stare up at us.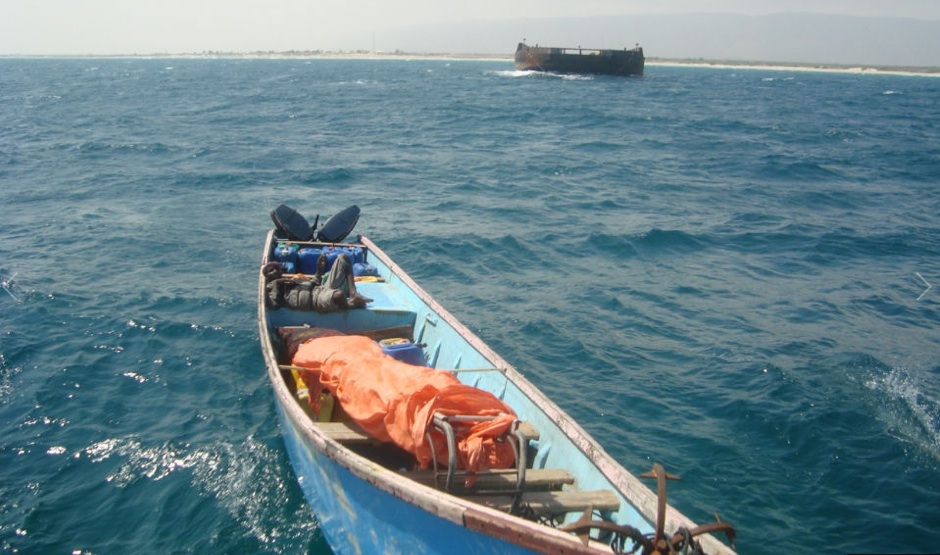 My cocktail companions at sunset were the diminutive Burmese captain and a grizzled 20-year veteran of the South African Special Forces who was along to keep an eye on the cargo. The 52-year-old captain had the delightful name of Tint Lwin Oo and was thrilled I had the foresight to bring along good liquor. He was perplexed by the chain-smoking, scarred commando who had brought along a hunting bow "just for the pirates." The crew breathed a sigh of relief when the British three-man team in blue shirts from the private Maritime Asset Security and Training boarded at Muscat. Still, with only two men on duty at any time to cover the massive ship, everyone was expected to keep a lookout.
As we sailed south — into the Arabian Sea, and down across the mouth of the Gulf of Aden towards the coast of Somalia — the security team of former British Marines and Paratroopers briefed the crew in case of attack and used their binoculars and radios to monitor the hundreds of nameless fishing dhows and tiny skiffs that populate the region. Despite brief contacts and a few tense moments, we were never fired at or attacked by pirates. But they were there, waiting, in the narrow sea lanes, picking and choosing their targets. Unfortunately, other ships were to be their targets that week. On the bridge, via the open monitoring channel, we could hear the desperate calls for help from a ship captain's being attacked a few miles away.
My week and a half at sea plotting the vast distances and measuring the response time of the designated naval escorts made it clear to me that piracy would never be defeated at sea. But I had plenty of time with my new South African friend who worked for a security company named Sterling Corporate Services to understand a new program — how exactly how pirates could be defeated very quickly, on land.
In June of this year, my bow-hunting friend, a group of four dozen South African mentors,and 500 newly trained Somali recruits pointed their armada of 70 shiny Toyota Land cruisers, a small fleet of high-powered rigid inflatable boats, helicopters, and fixed-wing aircraft towards the coast of Somalia — the heart of pirate country.
This once-motley group, the Puntland Maritime Police Force (PMPF), had been trained by African, British, South African, and U.S. foreign contractors for two years; in May 2011, they began setting up forward operating bases in remote coastal areas of Eyl, Hafun, Bargal, and Qaw. By June 2012, they were ready for the full invasion wave.
Their target was pirate leader Isse Yulux, a former roadhouse owner turned militia leader, who found grabbing ships at sea much easier than fighting clan wars on land. Yulux had a long track record of successful, and sometimes vicious, hauls — including a Danish family he had kidnapped from their luxury yacht. His brazen capture on May 15, 2012, of a brand new Suezmax tanker loaded with over $100 million of Dubai sweet crude made him Puntland's Public Enemy No. 1. But the other mission of the PMPF was to push back the rapidly growing numbers of al-Shabab and al Qaeda members fleeing north from the south of Somalia.
Although the anti-piracy program was briefed to the U.S. embassy in Nairobi (which coordinates U.S. policy in Somalia), officials held a dim view of Puntland's attempt to bolster its own security. Not surprisingly, the West still sees Somalia in its shiny new colonial clothes — one nation under one government. But for all intents and purposes, Somalia was only unified between 1949 and 1991 — and most of that time under a Marxist dictator. Somaliland, the former British colony, Puntland, Galmudug, and southern Somalia has always been governed and delineated within clan boundaries, rather than foreign-engineered fantasies. A legacy of poor governance — from the 19th century sultanate deal-making with Europeans, to the colonial carve-ups of the 1885 Berlin Conference to the post-war protectorates — spawned major uprisings. If that weren't enough, the last 20 years of being the U.N.'s favorite custodial state has resulted in a randomly selected viceroy bullying and cajoling Somalis towards that same colonial goal of a unified, democratic nation.
In early 2010, frustrated by America's cold shoulder and the U.N.'s obsession with a Mogadishu-centric Somalia run by the incompetent Transitional Federal Government (TFG), Puntland's President Abdirahman Farole sought help from his biggest trading partner: The United Arab Emirates. The tiny, but oil-rich maritime trading nation had a vested interest in keeping the growing legions of al-Shabab fighters funneling into Puntland away from their ships and shoreline. Within weeks, not years, millions of dollars began to flow to build Puntland's security force.
In June 2012, two years after its creation, the UAE-funded PMPF — now with helicopters, ocean-going ships, construction battalions, and a massive base — was under pressure from Farole to become operational. He wanted the pirates cleared out by July. Coastal communities like Bargal, Bander Bayla, and Eyl were also pressuring Farole to support their homegrown efforts to expel pirates. The timing for the offensive was perfect: the monsoons that keep the pirates off the seas were about to set in; pirate crews would soon be coming off the oceans. This meant they would be much easier to reach as they chewed qat and consulted mystics about next season's catch.
But the program had another, more-formidable enemy, the U.N. — specifically, the United Nations Monitoring Group on Somalia and Eritrea (SEMG), a group that was created to document violations of the 20-year-old arms embargo in 2002 by warlord-run militias. The original SEMG reports were hampered by a lack of access on the ground and resulted in a dry accounting of militias and weapons. But with the hiring of Canadian/Somalilander and former International Crisis Group senior analyst Matthew Bryden in 2008, (a period that coincided with the growth of piracy and al-Shabab's arrival in the north) the reports took on a bizarre and voluminous tone accusing both friend and foe of serious violations.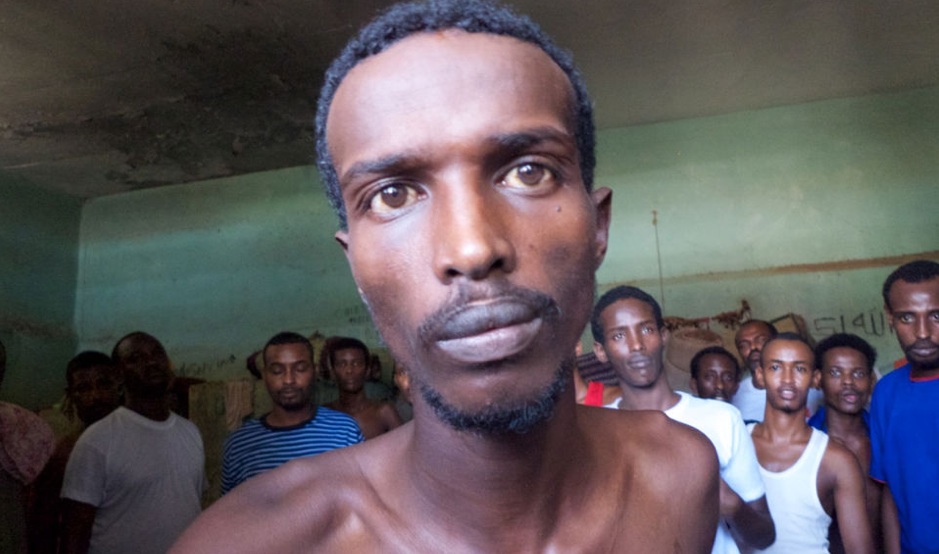 For example, in 2008 the SEMG accused the United States of violating the arms embargo by launching missile attacks against terrorist groups. Characterizing one such incident, Bryden's team wrote: "The Monitoring Group considers all weapons delivered to Somalia a violation of the embargo, irrespective of the manner in which they were delivered." Puntland got a taste of the SEMG's style under Bryden's reign on December 10, 2011. The SEMG apparently (the U.N. handles all flight permissions over Somalia) tipped off Somaliland officials that a PMPF plane supposedly loaded with weapons and mercenaries was on its way to Puntland. Almost as if by magic, Bryden showed up at the Ambassador Hotel in Hargeisa and threatened the two South African passengers. That is, until he discovered that the two "mercenaries" were in fact a well-known 60 Minutes camera team invited to film the PMPF base. But the point was made. The U.N. wasn't about to leave matters of self-defense to Puntland. Everyone was under the arms embargo. Today, even the new Somali government so lovingly nudged into power by the United Nations, cannot buy its own weapons, training, or equipment to defend itself from al Shabab because of the ancient arms embargo.
In addition to going after Puntland, SEMG has also gone after the maritime security industry, the CIA (which supports three antiterrorism units in country), the United States (which trains and supplies Somalia security forces), the TFG (for corruption), even aid organizations (for excess food sold) and the charcoal industry (the taxes on which funds al-Shabab). The arms embargo was originally created to stop the flow of weapons to warring militias. But two decades on there have been no significant or measurable reductions in the flow of arms to Somalia or any real penalty to pirates or al-Shabab.
The SEMG has tirelessly gathered information, some of it correct, some requiring an official apology. What is disturbing is that the SEMG can recommend devastating financial and travel sanctions using anonymous sources, paid informants, and unchallenged evidence, much of it usually done from outside Somalia. To be fair, the contractors hired to investigate violations of the arms embargo have a thankless job: U.N. member states, Islamic radicals, common criminals, the Somali government, and even the U.N. itself have been accused of breaking the arms embargo by the SEMG.
To these charges, the SEMG replied:
"The arms embargo does not have any impact on the amount of weapons circulating in Somalia, because what we could observe is that most of the weaponry currently in use in Somalia by all the main stakeholders (TFG, AS [al Shabbab], ASWJ [Ahlu Sunna Waljama'a, a Somali paramilitary group], Puntland and Somaliland forces, pirates, etc.) was imported before 1992 (former Siad Barre's regime stocks) or, as for the ammunition, supplied from local trade (Yemen mainly but some from Ethiopia). However the arms embargo has for sure an impact on the age and lack of variety of the weaponry available on the market, and on the absence of sophisticated weapon systems (no anti-tank, no SAM, no 120 mm mortars, etc., are used on a regular basis in the Somali conflict since 1992)."
Despite the denial, al-Shabab is happy to pose for my news publication with their collection of surface-to-air missiles.
In a classic no-win situation, the Puntland government found itself being encouraged to fight piracy by the United Nations at the same time those very actions were being considered by another wing of the U.N. to be contributing to security destabilization. Puntland invited high-profile media and political figures to visit to both gather support and promote Puntland's attempts at stabilization. Despite this open approach, Matt Bryden's SEMG played a game of constantly moving the goal posts, while President Farole and Somalia's TFG Prime Minister, Dr. Abdiweli Mohamed Ali, repeatedly attempted to notify and formalize their anti-piracy program with the U.N. Security Council. The U.N. responded by calling the program "secret" and one of the biggest threats to stability — even though the PMPF publishes a website, sent out press releases, and even invited journalists from Fox, Newsweek, and other outlets (including my Somalia Report team) to see the police force's activities.
Just as the PMPF had the pirates on the run, the United Arab Emirates — under massive U.N. pressure — shut off their funding for the only anti-piracy program that had a real chance of success. As of June 6, Somali's largest indigenous attempt to control its own security appeared to be dead. To put the nail in the coffin, the SEMG then leaked its 2012 report on July 15, which vociferously demanded sanctions against the South African contractors — but did not recommend sanctions on the pirates they were hired to defeat.
When asked what their logic was for this conundrum, the SEMG response was "Pirate leaders cannot be sanctioned otherwise it would criminalize ransoms payments, (which) could have a negative impact on the release of crew members."
At the very last moment, the good intentions of the United Nations had managed to save the pirates of Puntland and shut down Somalia's only land based anti-piracy program. Matt Bryden has since left the SEMG; so too have all the foreign contractors at the PMPF base in Bosaso. Meanwhile, pirate chief Isse Yulux seems to be doing fine: he's even offered to pay the salaries of the remaining PMPF officers.